Liq believes it can play an important role in building a more sustainable society.
Thus, we have developed programs that act as social, environmental and economic transformation tools, positively affecting our employees and strengthening the relationship with our customers.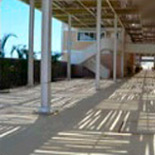 Environmental Responsibility
At Liq, we use natural resources in an optimized and efficient manner, reducing printing, prioritizing the consumption of alternative energy sources and reusing rainwater on some of our sites. We also disclose content focused on the sustainable development of the company and the planet for our employees.